Spirit Creek Outfitters ("SCO") is all about the hunter experience.
Hunting is not just something we do, it's a part of who we are.  Born and raised in Northern Saskatchewan, our team is committed to sharing the majestic experience of our 3000 square mile hunting zone, adjacent to the Boreal Forest.   The SCO team has spent decades refining and developing what we believe to be the "ultimate" Bear, Waterfowl and Whitetail hunt in Canada and we deliver on every detail.  Choosing SCO means:
Fully guided tours and hunting trips for a variety of wildlife.

Best in class accommodations (including home cooked meals.)

Wildlife tours, hiking and hunting out of individual ground pits in a dry field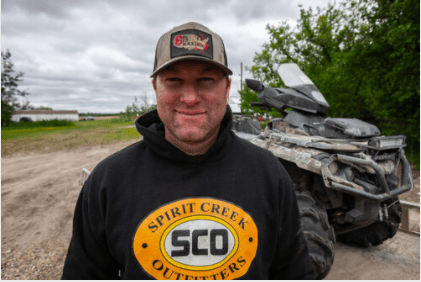 The Boss
Dean Sliva has been running hunts in Canada for many years and knows the area like the back of his hand. Dean is the man that makes sure everything is done, you are comfy and you are going to spots that have animals there.
The Cook
Kailyn will be the smiling face in the kitchen when you come back from a long day in the bush. She is on top of all the meals including dessert. She is really good at that part
Head Guide
Head guide is none other than….